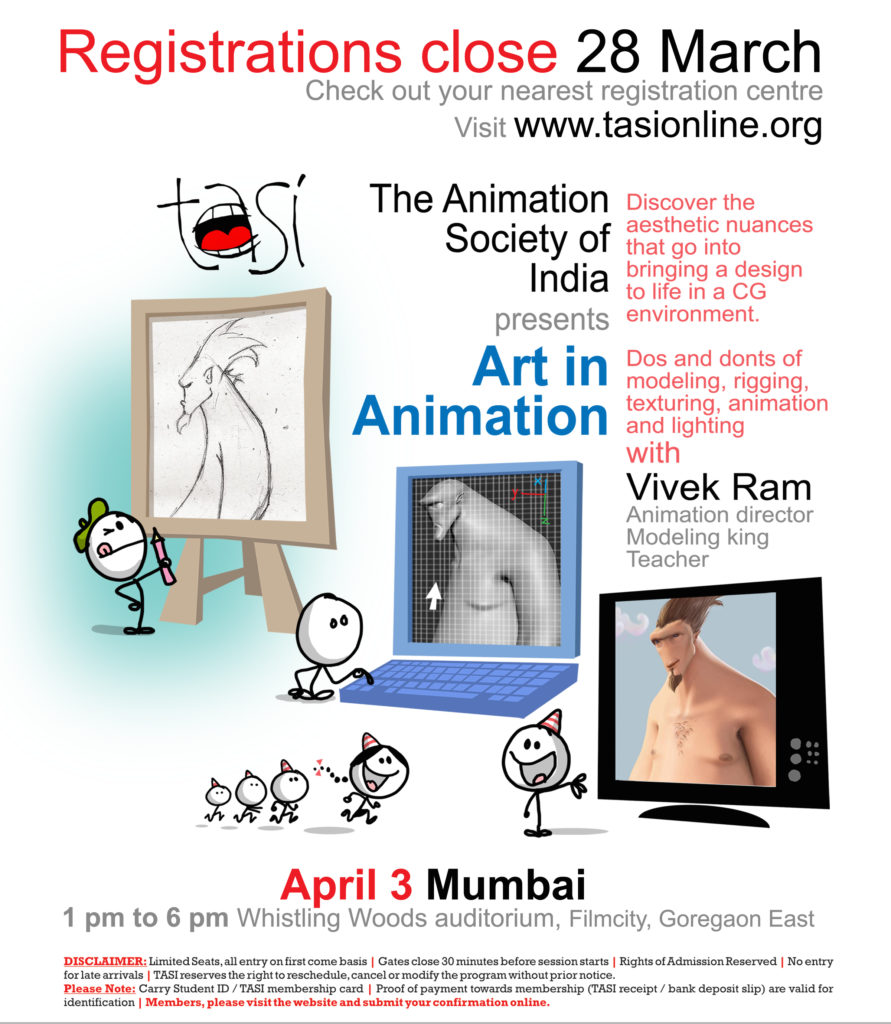 Speaker: Vivek Ram
Date: 3rd April, 2010
Time: 1 pm to 6 pm
Venue: Whistling Woods International, Film City, Goregaon (East), Mumbai
ART IN ANIMATION – Session Report
by Tanvi Mestry
Yet another exciting session with one of the most skilled artists in the fraternity, Mr. Vivek Ram, was held on the 3rd of April at the Whistling Woods Internationals' campus. Vivek shared his experience of many years working as a modeling lead for some of the top studios across India, and began the session by drawing out some of the aesthetic nuances that go into bringing a design to life in a CG environment.
He kept the session quite interactive to which the audience responded very positively. He gave a gist of the responsibilities an artist faces while designing, and started off by discussing the crucial role that is played by the Art Directors, VFX supervisors and designers in getting the best out of every single frame of a film. Once the director sets up the mood for a scene, it is then completely left to these artists and what makes their job even more challenging is that they must visualise all of it in a digital world before they can go into actual production. This is where the visualization talent and understanding of the artist can play a key role in pre-production, increasing the scope of improvising every scene and thus optimizing the production duration.
Moving towards a few technical aspects of setting up a model in 3D, Vivek explained the fundamentals of planes as building blocks in the formation of the basic recognizable shape of any object. He elaborated this by starting with a basic cube geometry and breaking down its planes further to take the shape of a human head. Though at a very initial stage, these planes are the foremost aesthetics one needs to understand before moving into detailing. The second important aesthetics, as he marked, are the 'opposing curves' on the geometry. Though these curves are perpendicular on a mesh, they are not symmetric, so in such a case, these opposing curves create believable deformations when the object/character is animated.
One aspect was discussed throughout the session – the importance of silhouettes. He underlined the significance of clear silhouettes in recognizing a character regardless of its gestures. The human brain registers these silhouettes and even a few subtle changes in them can make the character lose its identity.
Later the session covered the aesthetics of detailing, anatomy and lighting. Emphasizing on detailing of a character, Vivek suggested that one must go into detailing an object/character only after understanding how close it would get to the camera in a scene. He showed with a few examples how anatomy plays an equal and significant role in both, realistic as well as toon characters. And when it comes to lighting, selection of background colors is one important aspect because the tints and shades of these colors change the perception of the viewer. Sketching an example with a simple matte painting, he showed how, regardless of what color is chosen, it's their tonal value that reflects the perception of depth, still retaining the volume of the object even when it is desaturated. He suggested that a good understanding of photography and the practice of lighting through matte painting is a must if one seeks to opt for lighting as a profession. Getting final results from 3D animation is quite a lengthy process, therefore in production, concept art is heavily dependent on these techniques as they are quicker, although not easy, and get the job done, until the final approval.
Moving on with light and recounting once more a few aspects of the 'building blocks', Vivek explained the importance of Specular breaks on an object mesh. "Details are broken speculars", he suggested. To highlight his point, he put up a case study of few of his brilliant 3D models.
Covering all the nuances of the topic for the session was not possible given the time limit of 5 hours, but yet Vivek skillfully managed to give a detailed insight into the various aspects that lay the foundation of aesthetics and art in animation.
About Vivek Ram:
Vivek began his career 9 years ago as a freelancer working his way through to doing full assets for production and games. He has worked with Rhythm and Hues as a Senior Digital Artist for a few years before moving on to the Dreamworks Dedicated Unit as a Modeling Lead, where he wore multiple hats during his tenure. He currently works as an independent consultant, again playing the role of VFX Supervisor or Art Director on both feature and game projects.