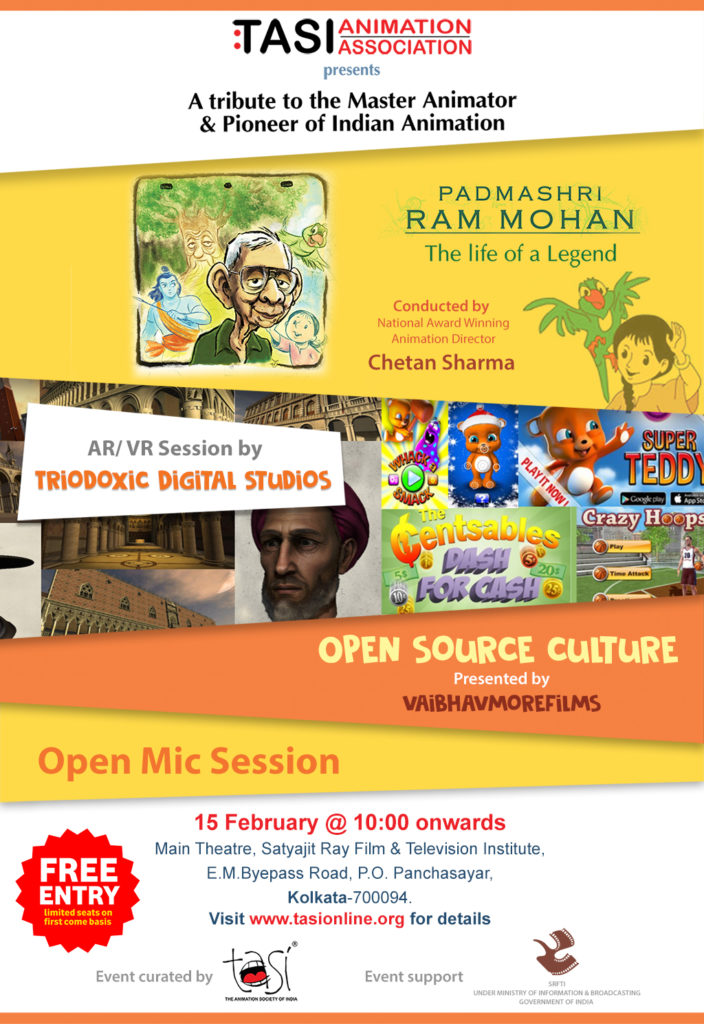 Session Details
(1) A tribute to the Master Animator  – A detailed look at the life and work of the pioneer and founding father Padma Shri Ram Mohan. Curated and presented by National Award Winner Animation Director Chetan Sharma from Animagic, Mumbai.
(2) AR/VR – An introduction to Augmented / Virtual and Mixed Reality. Latest trends and developments with case studies. Presented by Anukul Kukade – CEO Tridoxic Digital Studios, Mumbai
(3) Open Source Culture – A presentation by Vaibhav More on the increasing use of Open Source Solutions and the incomparable benefits to creative arts community.
(4) Open Mic Session – audience interaction and Q&A with industry experts.
DATE: 15th Feb, 2020
TIME: 10 am to 5 pm
VENUE: SRFTI, Kolkata
Photos
Testimonial
Dear TASI,
SRFTI is very glad in being the event partner with TASI. We at SRFTI are very happy for the TASI members and guests who made the event a fruitful one for the students, teachers and the animation community of Kolkata. Amidst the initial organisational issues, the openness with which the  guests adapted to the situation and rendered their speeches are commendable. I personally thank Mr. Anukul Kukade and Mr. Vaibhav More for presenting amidst the technical hiccups.
The second half went on well after we shifted the venu to a smaller auditorium
which had the facility to project from .ppt . I thank Mr. Chetan Shama to give a 
fantastic insight for all of us on Padmashri Sri. Ram Mohan.
The open Mic session was well appreciated. The take home from the event is priceless. We wish TASI to hold many more events in this part of the country to bring the latest events and news on animation and the continuous learning opportunities it provides for the
countless masses. 
We personally thank the dedication with which the volunteer Mr. Pravin did his role in doing the organisational bit from TASI side.
Sincerely,
A.S. Krishnaswamy
HOD ANIMATION CINEMA
SRFTI