Please note: Programme subject to change based on availability of speakers.
Also note: Membership Fee DOES NOT include cost of food/snacks at TASI events.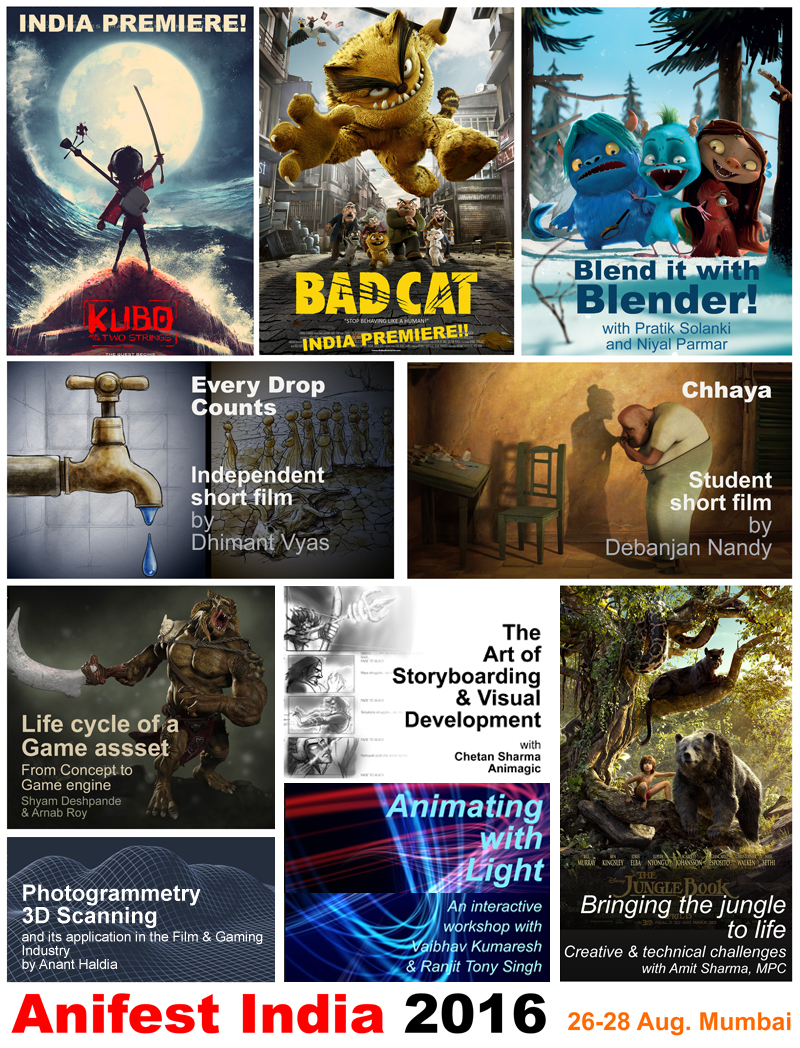 26th August (@ Whistling Woods International, Goregaon East, Mumbai):
India Premier of Laika's latest stop motion film 'Kubo & the Two Strings' – 11:00 am
27th August (@ Jai Hind College, Churchgate, Mumbai):
Welcome Address & Inauguration – 10:00 am
Interactive Light Animation Workshop* – 10:30 am
LUNCH BREAK – 12:40 pm
Blender and its potential with Niyal Parmar and Pratik Solanki from Weybec Studio – 2:20 pm
Photogrammetry 3D Scanning and its Application in the Film and Gaming Industry with Anant Haldia from I-C-E Studio – 4:00 pm
TEA BREAK – 5:40 pm
Behind the Scenes of The Jungle Book with Amit Sharma from MPC – 6:20 pm
28th August (@ Jai Hind College, Churchgate, Mumbai):
The Art of Storyboarding & Visual Development* by Chetan Sharma- 10:00 am
Independent short film showcase > Every Drop Counts by Dhimant Vyas – 12:00 pm
LUNCH BREAK – 1:00 pm
Life-cycle of a Gaming Asset with Shyam Deshpande and Arnab Roy from Zynga Games – 2:45 pm
Vote of Thanks & Volunteer felicitation – 4:45 pm
TEA BREAK – 5:25 pm
Student short film showcase > Chaaya by Debanjan Nandy – 6:00 pm
India Premier of Anima Instanbul's Turkish animated feature film 'Bad Cat' – 7:00 pm
*We regret that the sessions with Hans Bacher & Dattaraj Kamat have been cancelled due to unavoidable reasons.