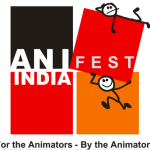 Anifest India has established itself as the premier event for youth in digital media.
A carefully curated event, the focus is always on creative content and a strengthening of traditional topics in animation. Not limiting itself to animation, the festival offers a wide variety of content ranging from pure arts to high end technology. The USP of this annual event is the wholehearted focus on creative arts and crafts and a keen eye on the latest technological developments as well.
In  August 2014 we held the 10th Anniversary edition of the much-loved festival. It was a smash hit with three full days of interactive sessions, a record number of entries in the film festival, record daily and overall attendance, and an all-time high in terms of national presence.
The highlight of the festival is the unique TASI Viewer's Choice Awards wherein films are screened at the festival and the audience votes to select the winning entry. A novel way to celebrate the art and craft of animation films by artists and peers. There are 3 categories for submission: Student Short Films, Commissioned Films and Independent Professional Short Films (self-financed). The duration of entries is limited to under 10 mins. to enable maximum screenings at the fest.
The attendees at the 2016 edition held in Mumbai in August '16 comprised of more than 60% outstation participants , enhancing the national status of the event. It was a great sight to see busloads of participants descending straight from all over India to be a part of the event, as well as visitors from UK, Malaysia, Russia, Europe, Hong Kong and US. As always, the festival culminated with the TASI Viewers Choice Award for Student, Professional Independent and Commissioned categories. Winners got a huge bounty of prizes from our sponsors along with the much sought after TASI trophy and goodies.
This success is a direct result of TASI's year round efforts at promotion and engagement. We have ventured outside Mumbai to hold substantial monthly events, and created an enthusiastic awareness across cities like Pune, Bangalore, Kolkata, Ahmedabad, Goa and Delhi. The best speakers from India and abroad always participate wholeheartedly, in support of TASI's principles of non-partisan knowledge sharing and skill building. Extended session durations permitted in-depth coverage and TASI's famously lively open-mic Q&As.
Keeping the momentum going, we successfully hosted the 15th edition of the festival –
ANIFEST INDIA 2019 in Mumbai, on 9th & 10th November.