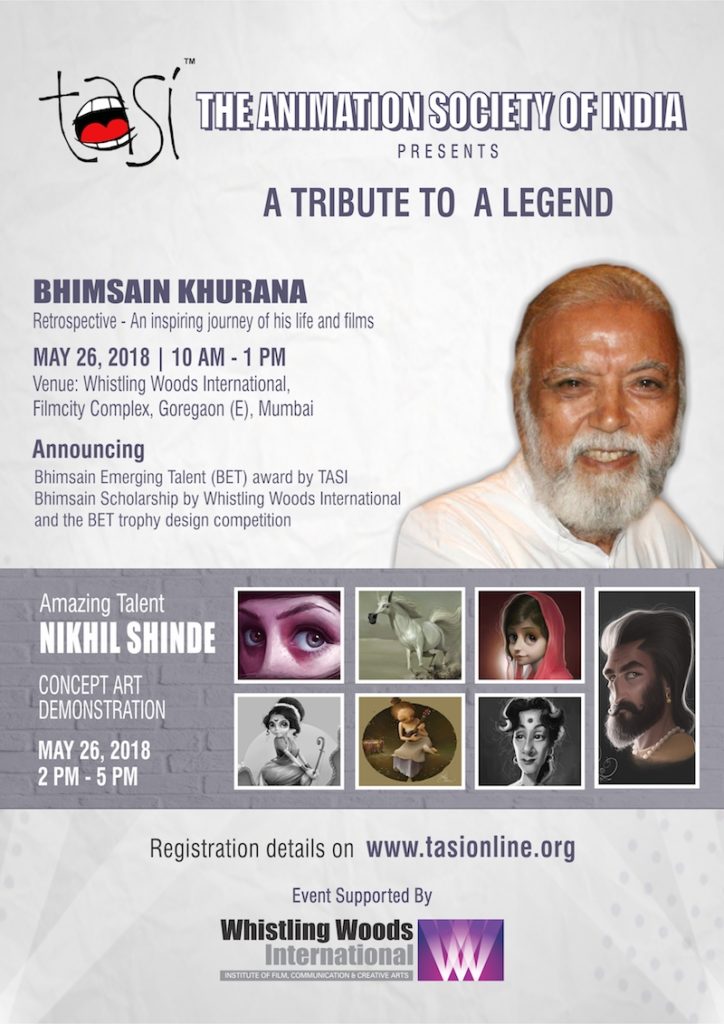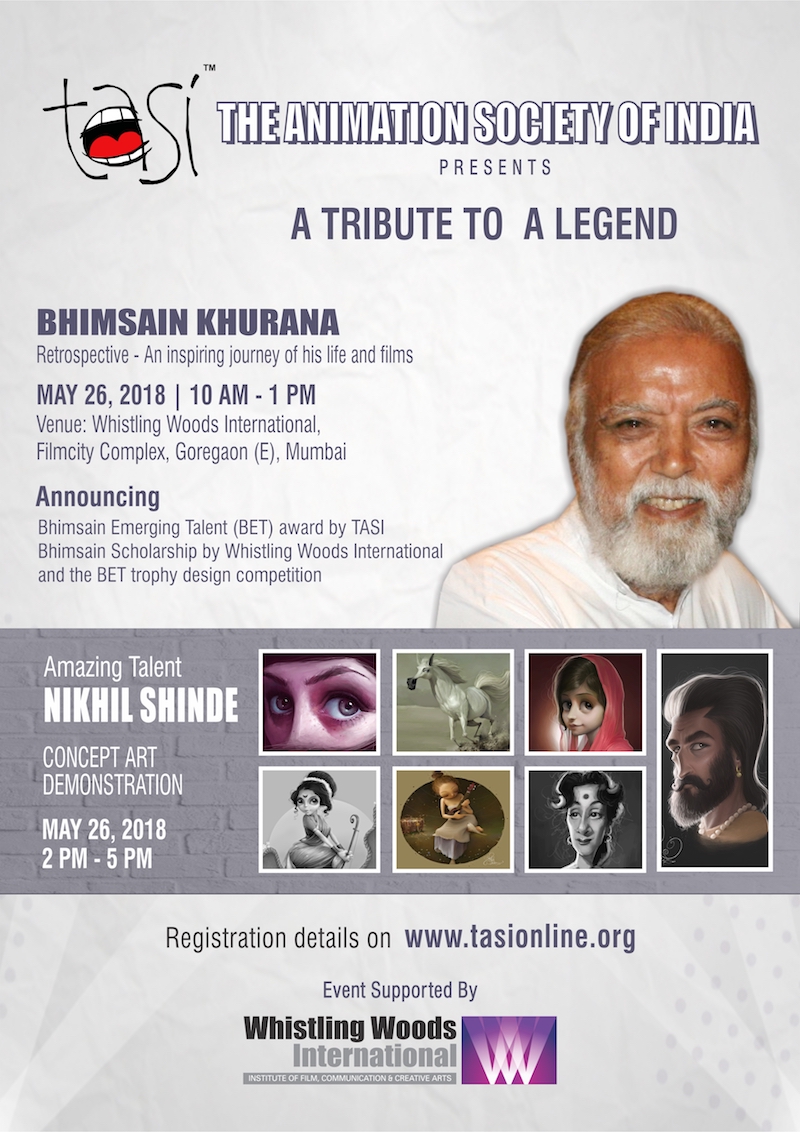 Date: 26th May 2018
Time: 10am to 5pm
Venue: Whistling Woods International, Film City Complex, Goregaon East, Mumbai
Speakers:
Session 1 – Kireet Khurana
Session 2 – Nikhil Shinde

Photos
We all gathered at the sprawling Whistling Woods campus under TASI's banner to pay homage to Bhimsain -a legend of Indian Animation- by holding a retrospective of his films.
Son Kireet Khurana gently reminisced and took the audience thru a rollercoaster ride of the struggles and passions of Bhimsain through those good old days of Film Division's, Cartoon Film Unit. Films like, The Climb that won him the prestigious Silver Hugo at the Chicago Film Festival followed by the classic – Ek Anek aur Ekta – with its iconic title song ek titli, anek titliyaan, that cracked open the thirst for animation for many wild aspirants like us in our formative years, to take it up as a career!
Munni -a horizontal multi-plane breakthrough of those days, The Fire and what it took to composite live action and time-lapse footage with hand-drawn hand-painted acetates under the huge cameras. Also the grit it took to bring to the nation this art-form, with trials and errors, no line testing or compositing softwares to preview, counting on focused judgment and literally shooting in the dark and awaiting the results after the processed film arrives from the lab.
Luminaries like Mr. Subash Ghai spoke highly of Bhimsain and his obsession for the craft. The session ended with a slew of announcements, The Bhimsain Scholarship @ WWIL  for deserving and meritorius students of the institute for a total amount of Rs. 3 Lakhs in his honor to promote budding animators.
The Khurana family in association with TASI, announced The Bhimsain Emerging Talent (BET) award with a cash prize of Rs. 1 Lakh and The BET trophy design competition.
The best eulogy that summed it up was by Mrs. Bhimsain Khurana – a real tribute to a lifelong comradery and bond she nurtured with her better half. We could feel our throats choke as her voice gently broke down in an outpour of devotion to a life well lived, on his terms and with his own design.
The post lunch session showcased the lovely work of an upcoming and superbly talented artist – Nikhil Shinde. He took the audience through a detailed illustration of his approach to his digital paintings. Many an experienced artist in the audience learned a host of useful tips and tricks that give Nikhil's work that unique look and style. Be it a 2d or 3d look, he emphasised the need to break free from the clutches of tools and software. A truly gifted artist, his humility and soft demeanour do an excellent job of hiding the raging passion that lies beneath.
Contributed by Gayatri Rao and Ranjit Singh
---
EVENT SCHEDULE
10am to 1pm – Session 1
| | |
| --- | --- |
| 10:00 – 10:30 | Registration |
| 10:30 – 10:40 | Brief Introduction by TASI, followed by Kireet Khurana |
| 10:40 – 10:43 | "Meet Bhimsain" Audio visual presentation |
| 10:43 – 11:05 | Mr. Subhash Ghai – Announcement of Bhimsain Scholarship |
| 11.05 – 12:45 | Bhimsain Animation retrospective |
| | The Climb (1 min) |
| | Kahani Har Zamane Ki (9.21 mins) |
| | Mehmaan (8 mins) |
| | Business is People (8.17 mins) |
| | Munni (9.14 mins) |
| | The Fire (9.5 mins) |
| | Ek Anek aur Ekta (7.06 mins) |
| | Mahagiri (5 mins) |
| | "O" (5 mins) |
| | Locked (5 mins) |
| | The Prince and the Magician (7 mins) |
| 12:45 – 13:00 | Bhimsain Emerging Talent award audio visual presentation |
| | Announcement of Trophy Design Competition… click here for details |
1pm to 2pm –
2pm to 5pm – Session 2
A session on Concept Art Development with Nikhil Shinde
---
A Tribute to A Legend – Bhimsain Khurana
Considered as India's animation pioneer and avant-garde film maker, Bhimsain was one of the pioneers of parallel cinema movement in India of the 70s.
Born in Multan (now Pakistan) in 1936, Bhimsain moved to Lucknow after the partition. Belonging to family of artists, he gravitated to arts and music early, studying fine arts and learning classical music which held him in good stead throughout his life. In 1961, Bhimsain moved to Mumbai after he secured a job at the monolith Films Division as background-painter. It is here that he learned the art and craft of animation film-making.
In 1971, he became independent. His first animation short film "The Climb" won him the prestigious "Silver Hugo award" at the Chicago Film Festival. He christened his company Climb Films (now Climb Media) after the film's success. Since then there has been no looking back. "Ek Anek Ekta" (1974) is considered India's most popular animation short film. This was followed by path breaking feature films "Gharaonda" (1977) & "Dooriyaan" (1979) and many TV series and documentaries bringing him accolades and awards galore.
Bhimsain has an unprecedented 16 President's National awards, several International awards and lifetime contribution awards by leading institutes and organizations.
The Animation Society of India is deeply saddened by the loss of our great stalwart. We shall always cherish the memories of our interactions with you. This tribute is a small token of our love and appreciation for your guidance, encouragement and pathbreaking work that showed the way to many young artists. Rest in peace.
For more information about Bhimsain and his work visit his website.
---