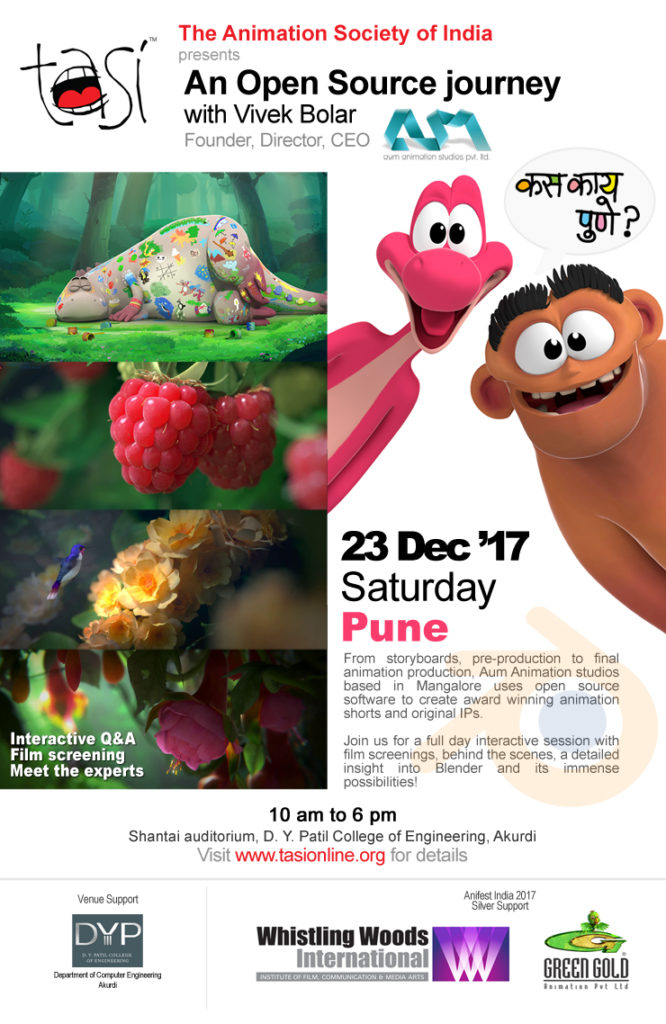 SESSION: An Open Source Journey
PRESENTER: Vivek Bolar – Aum Animation Studios
DATE & TIME: 23rd December, 2017 – 10am to 6pm
VENUE: Shantai Auditorium, DY Patil College of Engineering, Akurdi, Pune
Disclaimer: TASI reserves the right to cancel, modify, reschedule events and speakers without prior notice. Decision of the Managing Committee will be final and binding on all.
Registration Links:
Temporary Student Membership (Rs.150/-): Click here
Temporary Professional Membership (Rs.300/-): Click here
Click here to become a annual/life member of TASI
For queries and bulk registration (of more than 40 people), write to info@tasionline.org
What do you get as a TASI member?
FREE entry to Anifest India during the validity of your membership
FREE access to all/any sessions conducted by TASI across India & discounted rates for select workshops during the validity of your membership. For details check out Past Events and Join TASI.
Please note: Membership fee does not include refreshments at events.