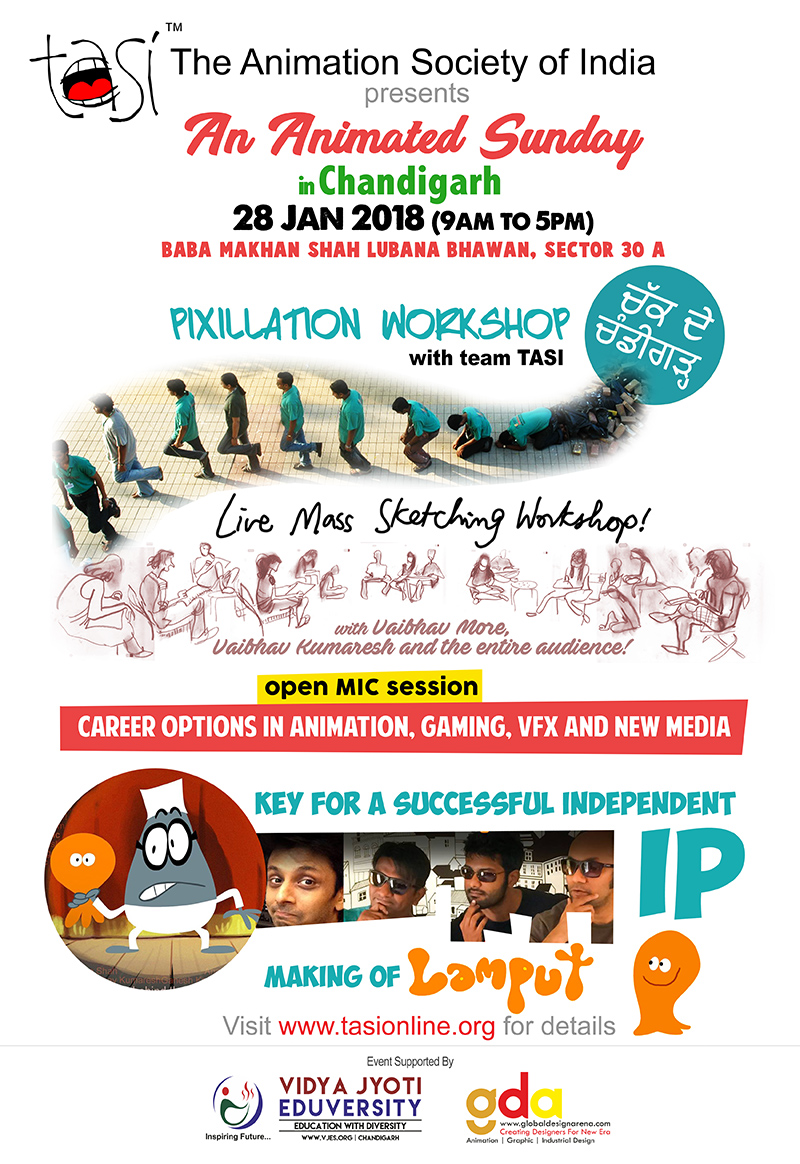 SESSIONS
(1) Live Mass Sketching Workshop (Bring your sketchbooks, we'll give you the charcoal)
(2) Pixillation Workshop
(3) Career options in Animation, Gaming, VFX & New Media – presentation & open mic
(4) The Key to successful Independent IP Creation – Making of Lamput
PRESENTERS: Team TASI (Vaibhav Kumaresh, Ranjit Singh, Vaibhav More)
DATE & TIME: 28th January, 2018 – 9am to 5pm
VENUE: Baba Makhan Shah Lobana Bhawan, Sector 30A, Chandigarh
MAP:

Disclaimer: TASI reserves the right to cancel, modify, reschedule events and speakers without prior notice. Decision of the Managing Committee will be final and binding on all.
Event Registration:
Event Membership only – For Students (Rs.200/-): Click Here
Event Membership only – For Professionals (Rs.300/-): Click Here
(Event registration fee is non-refundable.)
——————————————————————————————-
For Other Membership Plans – Click here
For queries and bulk registration (of more than 40 people), write to info@tasionline.org
What do you get as a TASI member?
FREE entry to Anifest India during the validity of your membership
FREE access to all/any sessions conducted by TASI across India & discounted rates for select workshops during the validity of your membership. For details check out Past Events and Join TASI.
Please note: Membership fee does not include refreshments at events.