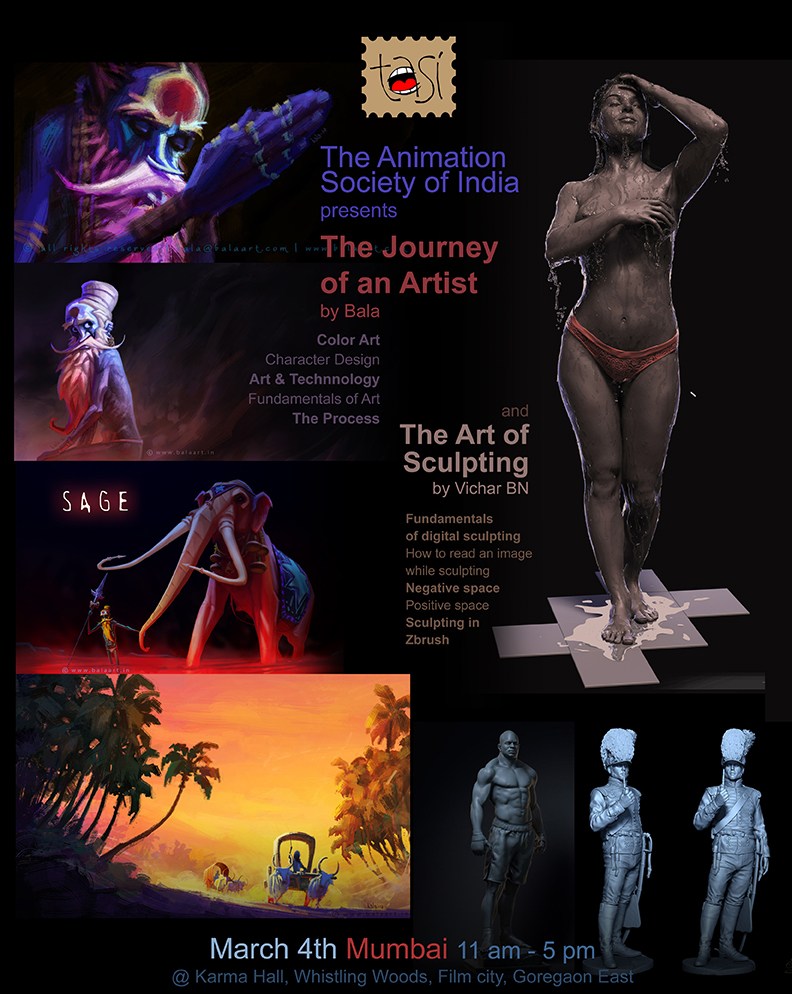 Session 1: The Art of Sculpting by Vichar BN
Session 2: Colour Art for Animation by Bala.
Date & Time: 4th March, 2017 – 11am – 5pm
Venue: Karma Hall, 1st Floor, Whistling Woods International, Filmcity Complex, Goregaon (East), Mumbai
Photos



SESSION DETAILS:

Part 1 with Balasubramanian Rajasekaran 'Bala': My Journey as an Artist – Art & Technology, The fundamentals of art, and colour art for animation.

Part 2 with Vichar BN: Fundamentals of digital sculpting – how to read an image while sculpting, negative space positive space and how to sculpt using basic geometer in zbrush.
SPEAKER DETAILS:
Balasubramanian Rajasekaran 'Bala' is an Art and Animation Director with 20 years of experience and numerous animated shows to his credit. Holding a Bachelor's Degree in Fine Arts and Visual Communication he had a head start in animation industry in India earning credits with the prestigious BAFTA for the very first series he worked on 'Pablo The Little Red Fox' which paved the way to work for noteworthy clients including The Walt Disney Company on 'Higgly Town Heroes'.
His short film 'The Bad Egg' travelled the animated film festival circuit in the year 2006 and won the Outstanding Film Award at Digicon 6+2 Tokyo, in Japan and World Gold Medal in New York Festivals in 2007 and has also directed the multiple award winning TV series 'Little Krishna'.
See Bala's work here.
Vichar B N lives and works in Bangalore, India for Technicolor Animation and Games. Vichar currently holds the role of Asset supervisor for the Games division but also has the opportunity to work on Animated TV Shows and Films. At Technicolor Vichar is considered the traditional sculpting expert and often provides instruction and mentoring to the other cg modelers.
Vichar's career started as a traditional sculptor 18 years ago. Early in his career he had the privilege to work as a personal sculptor for The King of Mysore and many of his sculptures are still in the Kings residence at the Mysore Palace and Bangalore Palace (2003 to 2005). The craving to learn new things led Vichar towards Computer Graphics. Vichar is self taught on the computer using ZBrush and Maya as his primary tools. The idea of bringing sculptures to life using technology was very alluring, almost like playing God. His digital art experience now spans the last 12 years modeling for animated television shows, films and games. His experience includes sculpting Characters, Sets and Props in addition to hard surface Modeling.
See Vichar's work here.