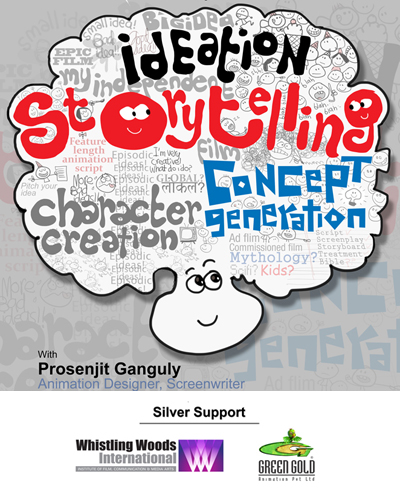 Session: Discovering a Freshly Brewed Animated Story – Small, Regular and Large
Speaker: Prosenjit 'PJ' Ganguly
Date & Time: 28th January, 2017 – 11am – 5pm
Venue: Karma Hall, 1st Floor, Whistling Woods International, Filmcity Complex, Goregaon (East)
Photos

SESSION DETAILS:
Part 1:
Presentation of the subject in talks and audio & video clips, along with interactive exercises and short games.
Time Duration 2-3 hours
Mysterious home of Stories
Songs of the Impossible
Tiny & mighty, Big & Beautiful- various structures.
Showing Vs Telling
Part 2:
Participants work on tight time bound Assignments and present to the audience
Time duration: 2 hours
Build a Character – Create an Impossible Gripping Character.
Dialogue – How inanimate things would converse in a storyline.
Create a unique animated storyline on the spot.
Part 3:
Q and A
Participants creation:
Participants are invited to create short 20 second animated fillers based on a given set of themes, that culminate in the Anifest India/ TASI logo. Best selected ideas (submitted by the next deadline) will be guided by Professionals (TASI members) online and selected films will be screened at Anifest India 2017.
Participants are required to bring along:
A4 paper
Stationery
Surface to write/doodle on