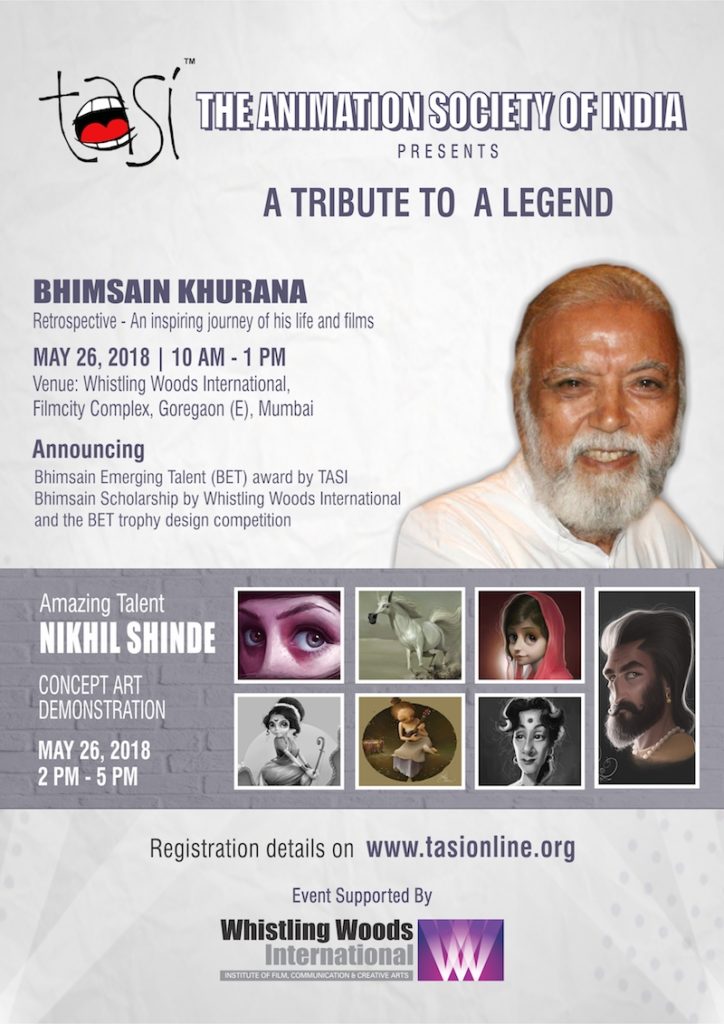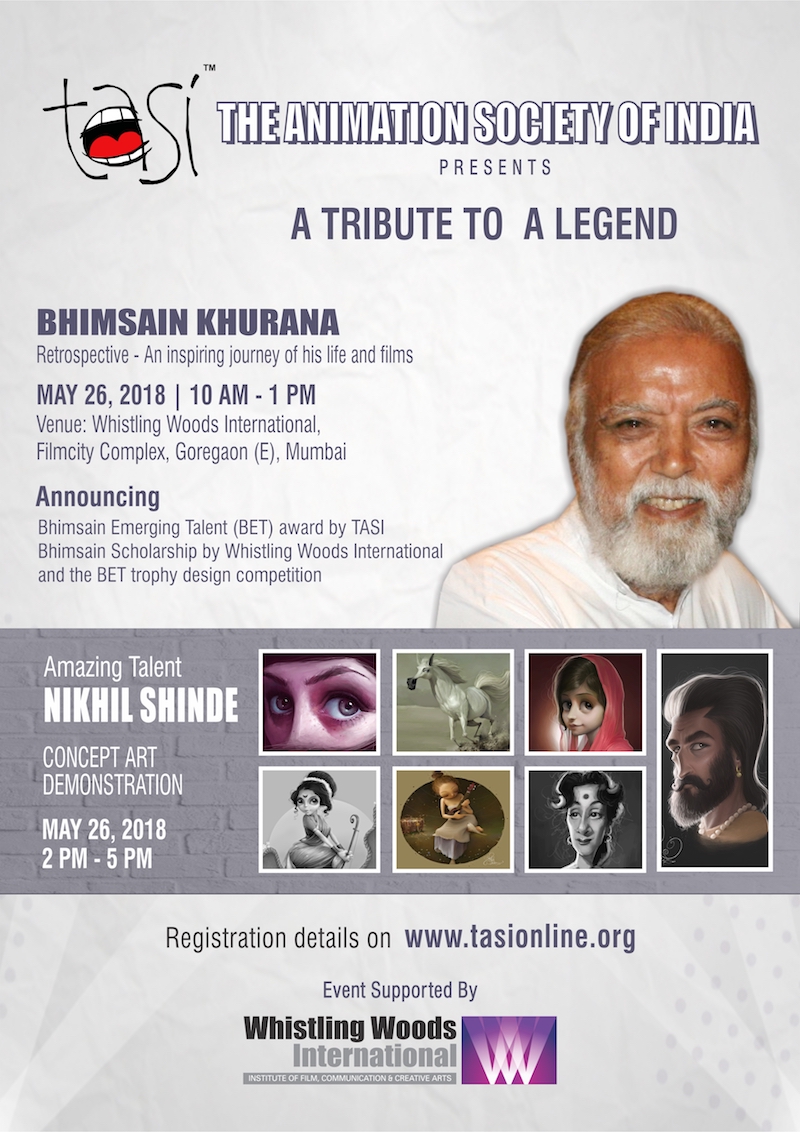 Date: 26th May 2018
Time: 10am to 5pm
Venue: Whistling Woods International, Film City Complex, Goregaon East, Mumbai
Speakers:
Session 1 – Kireet Khurana
Session 2 – Nikhil Shinde
EVENT SCHEDULE
10am to 1pm – Session 1
Bhimsain Khurana Retrospective – An inspiring journey of his life and films – Speaker: Kireet Khurana
Announcement of the Bhimsain Emerging Talent (BET) award in association with TASI, by the Khurana family
Announcement of the Bhimsain Scholarship by Whistling Woods International
Announcement of the BET Trophy Design Competition
1pm to 2pm –
2pm to 5pm – Session 2
A session on Concept Art Development with Nikhil Shinde
---
A Tribute to A Legend – Bhimsain Khurana
Considered as India's animation pioneer and avant-garde film maker, Bhimsain was one of the pioneers of parallel cinema movement in India of the 70s.
Born in Multan (now Pakistan) in 1936, Bhimsain moved to Lucknow after the partition. Belonging to family of artists, he gravitated to arts and music early, studying fine arts and learning classical music which held him in good stead throughout his life. In 1961, Bhimsain moved to Mumbai after he secured a job at the monolith Films Division as background-painter. It is here that he learned the art and craft of animation film-making.
In 1971, he became independent. His first animation short film "The Climb" won him the prestigious "Silver Hugo award" at the Chicago Film Festival. He christened his company Climb Films (now Climb Media) after the film's success. Since then there has been no looking back. "Ek Anek Ekta" (1974) is considered India's most popular animation short film. This was followed by path breaking feature films "Gharaonda" (1977) & "Dooriyaan" (1979) and many TV series and documentaries bringing him accolades and awards galore.
Bhimsain has an unprecedented 16 President's National awards, several International awards and lifetime contribution awards by leading institutes and organizations.
The Animation Society of India is deeply saddened by the loss of our great stalwart. We shall always cherish the memories of our interactions with you. This tribute is a small token of our love and appreciation for your guidance, encouragement and pathbreaking work that showed the way to many young artists. Rest in peace.
For more information about Bhimsain and his work visit his website.
---
Event Registration:
Event Membership only – For Students (Rs.100/-): Click Here
Event Membership only – For Professionals (Rs.200/-): Click Here
(Event registration fee is non-refundable)
——————————————————————————————-
For Other Membership Plans – Click here
For queries and bulk registration (of more than 40 people), write to info@tasionline.org
What do you get as a TASI member?
FREE entry to Anifest India during the validity of your membership
FREE access to all/any sessions conducted by TASI across India & discounted rates for select workshops during the validity of your membership. For details check out Past Events and Join TASI.
Please note: Membership fee does not include food/refreshments at events.
Disclaimer: TASI reserves the right to cancel, modify, reschedule events and speakers without prior notice. Decision of the Managing Committee will be final and binding on all.