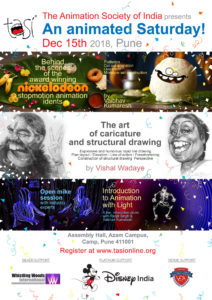 Session details:
– Behind the Scenes of the award winning Nickelodeon stop motion animation idents – with Vaibhav Kumaresh
– The Art of Caricature and Structural Drawing – by Vishal Wadaye
– Open Mike Sessions with Industry Experts
– Introduction to Animation with Light – with Ranjit Singh and Vaibhav Kumaresh
DATE: 15th December, 2018
TIME: 10am to 5pm
VENUE: Assembly Hall, Azam Campus, Camp, Pune
A full day of education from the masters of their craft. Starting off with Vaibhav Kumaresh showcasing a detailed behind the scenes of making of the stop motion idents for Nickelodeon. He showed various styles of work including puppet and cutout animation including custom rigs and camera setups that were used to create these lovely channel idents.  Followed by a live demo by expert Vishal Wadaye who started from very basic shapes and took the audience thru a mesmerising 90 mins of his control and wizardry. The post lunch session began with a light animation demonstration by Ranjit Singh and Vaibhav Kumaresh where they created a short animation sequence using a torchlight to paint individual frames of the film. This was followed by a detailed explanation by Ranjit of the types of torches, leds, tips and tricks to create custom light brushes and color filters that can be used in this technique. The finished film was screened such to the delight of the audience with repeated chants for 'once more!!'.
A light animation demo created live on stage with members from the audience
The industry connect session at the end of the day was really informative. 2 local studios – Philm cgi and Phoebus among the many who were invited joined us on stage. They shared their views on the state of the industry and the current shortage of skilled artists. Extending an open invite to visit their studios, both stressed on the need for students to start engaging early with the industry to really understand the needs of the job market and take corrective action in their education / projects as early as possible.
Thank you Pune for your response and support. It was good to be back.
Photos