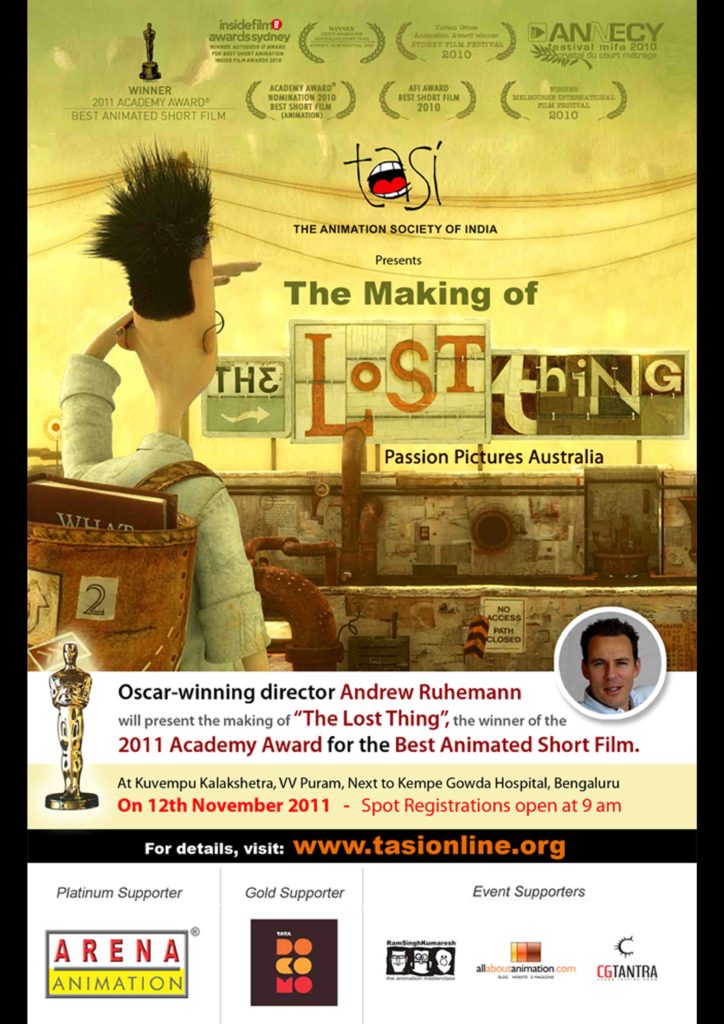 Speaker: Penny Verbe (Passion Pictures)
Date: 12th November 2011
Time: 10 am to 1 pm
Venue: Kuvempu Kalakshetra, V V Puram, Next to Kempe Gowda Hospital, Bengaluru
At ANIFEST INDIA 2011, we held a special screening of the Academy Award winning animated short film – "The Lost Thing", a 15 minute animated short film based on the highly acclaimed picture book by the same name by multi award winning author and illustrator, Shaun Tan. Join us as co-director Andrew Ruhemann takes us behind the scenes of the brilliant film.
Andrew Ruhemann is the owner and executive producer of Passion Pictures, which he established in 1987 as a production company supplying animation and special effects.  Previously he worked as a producer at the Richard Williams Studio, makers of the award winning animation for the feature film "Who Framed Roger Rabbit?" (dir. Robert Zemeckis)  Andrew travels all over the world for the company searching for new talent and developing new markets for Passion Pictures' work.
In 2011 Andrew made his directorial debut with an animated film entitled The Lost Thing which he co-directed with Shaun Tan, the Australian author of the book from which the film was adapted. Produced by Sophie Byrne at Passion Australia in Melbourne, The Lost Thing was produced in association with Screen Australia and was released in 2010.  The film won an Oscar for Best Short Animation in 2011, in addition to countless other awards at film festivals worldwide.
Photos