The Robot is Back!
S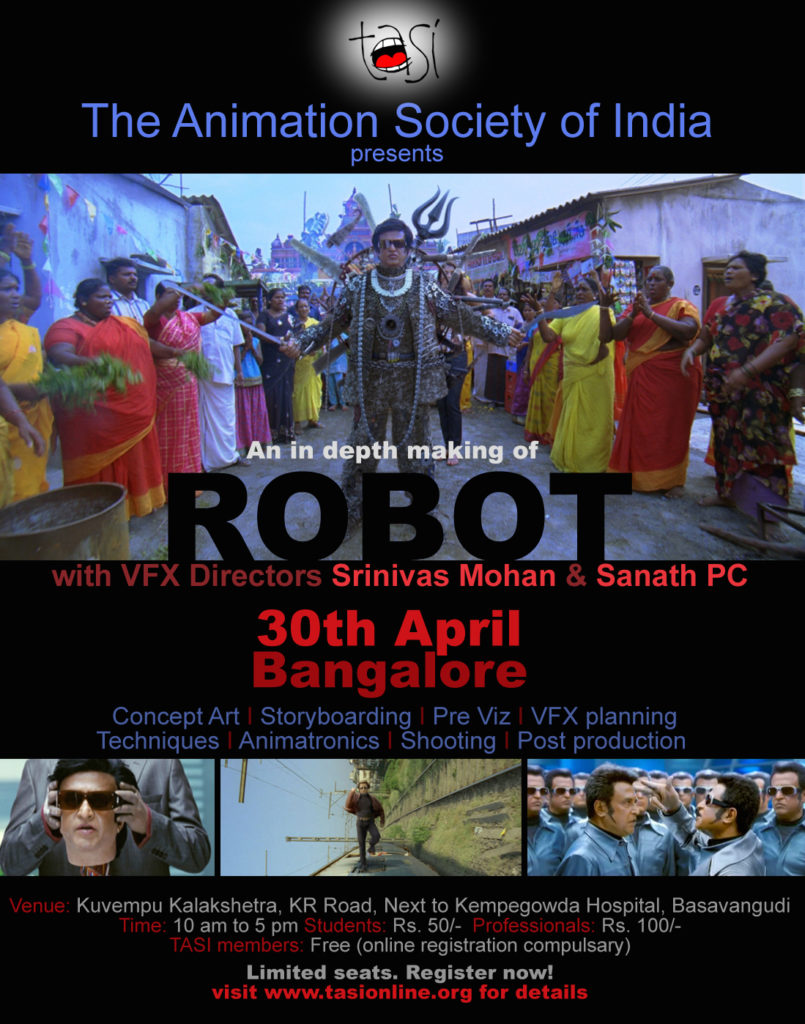 peakers: Sanath PC & Srinivas Mohan
Date: 30th April 2011
Time: 10:00 am to 5:00 pm
Venue: Kuvempu Kalakshetra, K R Road, Next to Kempegowda Hospital, Basavangudi, Bengaluru
After the phenomenal response to the February session of The Making of Robot in Pune, we brought back Sanath and Srini for a fascinating session in Namma Bengaluru!
Srinivas Mohan and Sanath P C take you behind the scenes of Robot.
* Preproduction – concept art, story boards and previsualisation
* VFX – planning and techniques
* Production – shooting
* Post-production – execution
Sanath PC is the Founder-Director of Firefly Creative Studio Pvt. Ltd. He has been working as a VFX supervisor and director for the last 14 years, and was VFX supervisor for over two dozen south Indian films including national award winning Anji (Telugu 2004) and Magadheera (Telugu 2009). He is a Communication design graduate from National Institute of Design (NID) with a specialization in Animation Film Design. He also holds a BSc (Physics) degree from Calicut university. His other interests include Photography, digital cinematography and digital film making.
Srinivas Mohan is a highly experienced and acclaimed Visual Effects director. He is the CEO of the visual effects company, INDIAN ARTISTS Computer Graphics Pvt. Ltd. which has won 2 National Awards for Visual Effects for the films Magic Magic in the 2003 and for Sivaji – The Boss in the 2007. He has supervised the path breaking Visual Effects in 2010's Blockbuster film Endhiran in Tamil and Robot in Hindi.
Photos