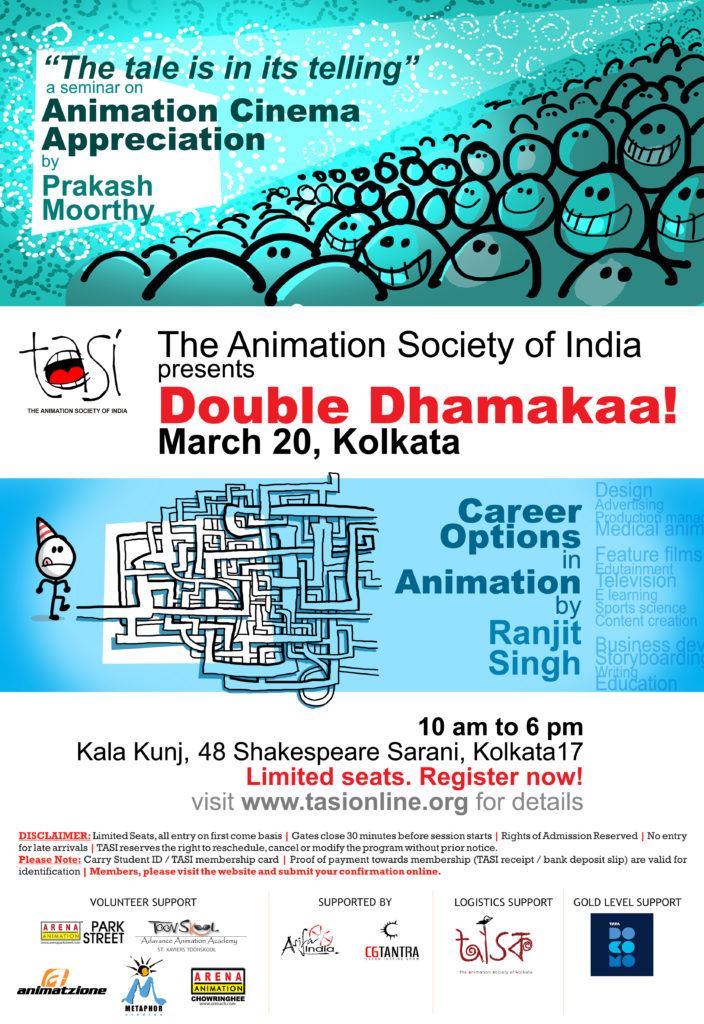 Speakers: Prakash Moorthy and Ranjit Singh
Date: March 20, 2010
Time: 10am to 5pm
Venue: Kala Kunj, (Basement of Kala Mandir), 48 Shakespeare Sarani, Kolkata
1. Animation Cinema Appreciation:
An Initiative to take animation closer to domestic audience.
1. Art and cultural History as the history of story telling.
Storytelling as the conveying of events in words, images, and sounds by improvisation and embellishment and as the only means of preservation of any culture. Why everything must be a story to begin with! The class looks at History, Myths, Epics, Politics and the final story of our Universe.
2. History of Cinema and the history of Animation.
"In 1878 Eadweard Muybridge photographed Sallie Gardner (a horse) in fast motion using a series of 24 cameras…." Landmarks in cinema. World animation. Through a comparative study in live and animated cinema, Disney's Ichabod Crane meets Johnny Depp's.
3. Appreciation and Criticism of any Art.
Appreciation as understanding the universal and timeless qualities that characterize all art and Criticism as concerning the establishment of a relative artistic value upon individual works with respect to others of comparable style, debating an entire style or movement.
Why is Animation an art? The class looks at classics, their genre, their literature, their styles, their technique of telling and comparing them with modern animation cinema and the new emergent interactive. The sessions will have Audio-visual presentations that include movies to illustrate.
Prakash Moorthy is an alumni and visiting faculty of the prestigious National Institute of Design, Ahmedabad. He holds a Masters degree in Fine Art (MA) from M.S University of Baroda Gujarat and a Diploma (Masters) in Visual Communication, Animation Design, National Institute of Design.
2. Career Options & Future Trends
There's a lot more to animation than just entertainment. A look at the multitude of opportunities that are available to digital artists. From medical to sports to edutainment and simulation, this session will expose the audience to the various roles / responsibilities and avenues that are available to artists today. There are serious careers out there which a lot of young people don't know about and people mistakenly feel that animation is only for movies, serials and television.
Ranjit Singh has learnt the craft of animation from the ground up. A veteran of 20 years, he started his career as a trainee and today is a creative producer and animation director. He has worked both with 2d as well as 3d animation for television commercials and episodic series. He is a productivity and project consultant to studios and is currently active in the education and training sphere where he conducts interactive workshops for students as well as faculty. His book on Animation Production Management is due for release shortly. He is a co-founder and presently the Hon. Secretary of The Animation Society of India.